Chartered Commerce in Boring Road, Patna offers specialized coaching programs for students of 11th and 12th in the field of commerce. Recognising the unique needs and requirements of commerce students at these crucial stages of their academic journey, Chartered Commerce provides comprehensive coaching to ensure their success.
Commerce Coaching in Boring Road, Patna For 11th Class
The institute's 11th commerce coaching program is designed to provide students with a strong foundation in commerce subjects. The faculty members employ a structured approach to cover all the essential topics, including Accountancy, Business Studies, Economics, and Mathematics. They focus on building conceptual clarity, strengthening problem-solving skills, and fostering analytical thinking. Through interactive classroom sessions, regular assessments, and practice papers, Chartered Commerce equips students with the knowledge and skills necessary to excel in their 11th-grade commerce examinations.
Patna's Top 12th Commerce Coaching in Boring Road
For students in 12th Class, Chartered Commerce offers specialised coaching to prepare them for their board examinations. The coaching program covers the entire syllabus prescribed by the respective education board, ensuring that students are well-prepared for their final exams. The faculty members provide in-depth explanations of complex topics, offer valuable tips and strategies to enhance exam performance, and conduct regular mock tests to assess students' progress. The coaching program also includes focused revision sessions and doubt-clearing sessions to address any challenges students may face while preparing for their 12th-grade commerce exams.
11th and 12th commerce coaching programs
Both the 11th and 12th commerce coaching programs at Chartered Commerce emphasize a student-centric approach. The faculty members understand the importance of personalized attention and are readily available to clarify doubts, provide additional guidance, and monitor students' progress. They create a supportive learning environment that encourages active participation and engagement, fostering a deep understanding of the subjects and promoting academic success.
Our Commerce Coaching Class Also Focuses On Developing Essential Skills Among Students
In addition to subject-specific coaching, Chartered Commerce also focuses on developing essential skills among students. The coaching programs aim to enhance students' critical thinking, problem-solving, communication, and time management skills. The institute organizes workshops, seminars, and interactive sessions to expose students to real-world scenarios and provide them with a broader perspective on commerce-related concepts.
Equipped With Modern Infrastructure Of Commerce Classroom in Boring Road
Chartered Commerce is equipped with modern infrastructure, including well-equipped classrooms, audio-visual aids, and a dedicated study environment.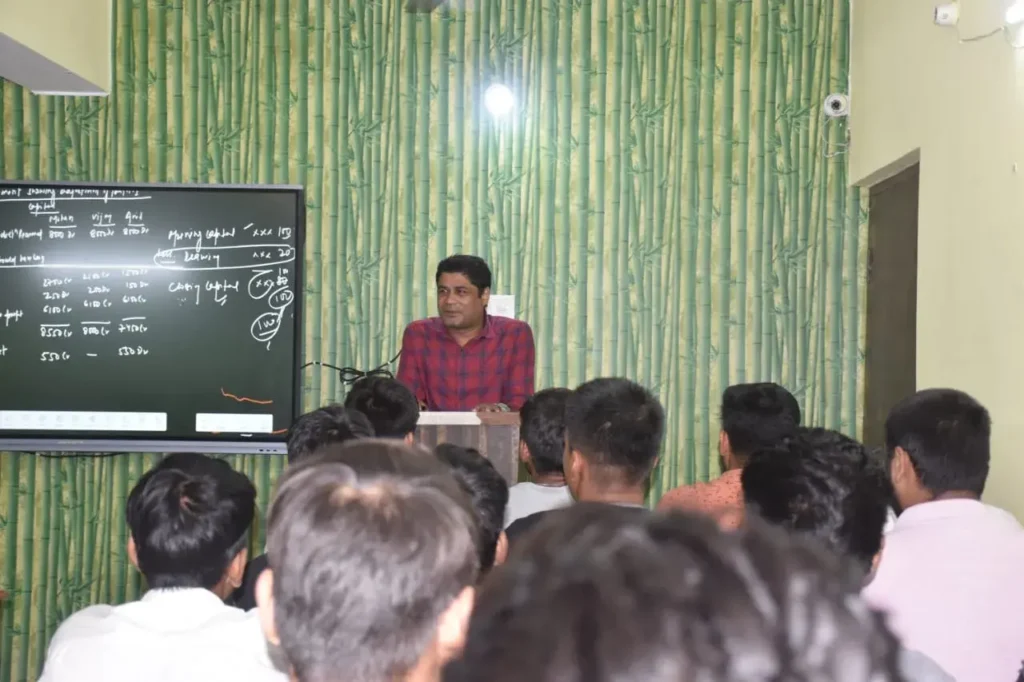 These facilities contribute to a conducive learning atmosphere and facilitate effective teaching and learning experiences for students.
Building Strong Foundations for Academic Excellence at Chartered Commerce, Boring Road, Patna
Overall, the 11th and 12th commerce coaching programs at Chartered Commerce in Boring Road, Patna, are designed to provide students with comprehensive preparation for their commerce examinations. With experienced faculty members, a student-centric approach, and a focus on holistic development, Chartered Commerce helps students build a strong foundation and achieve academic excellence in the field of commerce.
Hear what they have to say about their transformative journey at Chartered Commerce Coaching
From building a strong foundation to achieving remarkable academic excellence, our students share their experiences and the impact of our coaching on their commerce education.
All Branches Of Chartered Commerce in Patna
Contact Details For Chartered Commerce in Boring Road, Patna
Phone Number

Timings
Monday – Sunday 7:30 am – 8:00 pm
Address
2nd Floor, Shriram Place, Sahdeo Mahto Marg Santushti lane, Boring Rd, near Santushti Sweet, Patna, Bihar 80000