Commerce imparts a detailed insight of economy, finance, accounting & management. In Commerce Class For 11, you will get basics and in-depth knowledge of commerce by chartered accountants and teams. You have studied a variety of subjects since you started school to Class 10, but now is the time to study what you are interested in.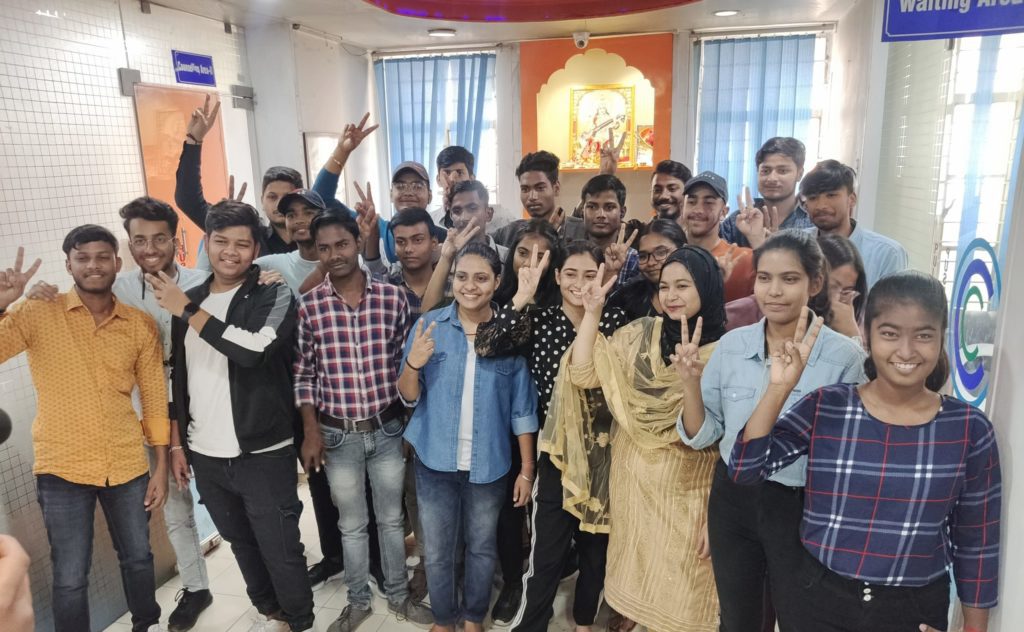 Our Edge over Others
Download App
Our Edge over Others
Benefits of online classes for CA Foundation:
It is up to you when and where you study.

Cost-effective and time-saving

With ease, revisions can be made

Never miss a class or lecture

Learn from the comfort of your own home

Mockups and online tests
Clarification of doubts on an individual basis
Download App
Admission Process at Top Commerce Coaching institute
👉You can also reserve your seat in upcoming batches by paying a registration Fee of Only ₹ 500. Click Here to Book your Seat. Reserve My Seat
👉No students will be allowed to attend the class without paying the registration (Applicable In some courses), Admission and 1st Installment of Tuition fee. No Demo for Offline Commerce class for class 11th , however for online Commerce class you will get some Demo.
Steps Required for Admission:-
Click on Payment link a Payment window will open.
Fill the details and Pay your fees.
After payment don't refresh or Back.  Wait few second an Admission form will popup.
Fill up the details and submit.
Documents Required During Admission:-
One recent passport-size color photograph.
Address Proof (Aadhar Card, Bank Account, Residence cert)
Identity Proof (Aadhar card, Bank Account, Residence cert)
Commerce Class 11th Classroom Courses
1 Year Classroom Course for Class 11th Commerce
Frequency of classes: 6 days a week
Course Description for class 11th commerce
Accountancy (Mandatory)
Business Studies (Mandatory)
Economics (Mandatory)
English (Mandatory)
Mathematics (Optional)
Commerce Students in this course will be taught the complete syllabus of Commerce For Class 11 as per their respective Boards (CBSE, ICSE, BSEB, and, other Boards). The syllabus and Subjects that are taught in Class 11th are as below:-
Accountancy Syllabus for Commerce Class 11
Meaning and Objectives of Accounting, Basic Accounting Terms, Accounting Principles, Process and Bases of Accounting, Accounting Standards and International Financial Reporting Standards (IFRS), Accounting Equations, Double Entry System, Origin of Transactions: Source Documents of Accountancy, Books of Original Entry – Journal, Accounting for Goods & Service Tax (GST), Books of Original Entry – Cash Book, Books of Original Entry- Special Purpose Subsidiary Books, Ledger, Trial Balance and Errors 14, Bank Reconciliation Statement, Depreciation, Provisions and Reserves, Bills of Exchange, Rectification of Errors, Capital and Revenue, Financial Statements, Financial Statements-With Adjustments, Accounts from Incomplete Records, Introduction to Computers, Introduction to Accounting Information System, Computerized Accounting System, Accounting Software Package: Tally, Project Work
Economics syllabus
Microeconomics:- Economics & Economy, Central Problems of an Economy, Consumer's Equilibrium, Utility Analysis, Consumer's Equilibrium Indifference Curve Analysis, Theory of Demand, Price Elasticity of Demand, Production Function & Returns to a Factor, Concepts of Cost, Concept of Revenue, Producer's Equilibrium, Theory of Supply, Forms of Market, Market Equilibrium Under Perfect Competition and Effects of Shift in Demand & Supply
Statistics for Economics:-Concept of Economics & Significance of Statistics in Economics, Collection of Data, Census and Sample Methods of Collection of Data, Organization of Data, Presentation of Data – Textual and Tabular Presentation, Diagrammatic Presentation of Data- Bar Diagrams and Pie Diagrams, Frequency Diagrams – Histogram, Polygon and Ogive, Arithmetic Line-Graphs or Time Series Graphs, Measures of Central Tendency – Arithmetic Mean, Measures of Central Tendency – Median & Mode, Measures of Dispersion, Correlation, Index Numbers
Business Studies syllabus
Part A Foundations of Business:- Nature and Purpose of Business, Forms of Business Organizations, Public, Private and Global Enterprises, Business Services, Emerging Modes of Business, Social Responsibility of Business and Business Ethics
Part B Finance and Trade:- Sources of Business Finance, Small Business, Internal Trade, International Business, Project Work
Mathematics syllabus
Part A Relations & Functions
Relations & Functions, Inverse Trigonometric Functions
Part B Algebra
Matrices, Determinants, Adjoint of a Matrix, System of Linear Equations
Part C Calculus:
Continuity and Differentiability, Rate Measurer, Monotonicity, Tangents & Normal, Approximation, Maxima & Minima, Integrals, Applications of the Integrals, Differential Equations
Part D Vectors & 3D Geometry:
Vectors, 3D Geometry
Part E Linear Programming
Part F Probability:
Conditional Probability, Random Variable, Binomial Distribution
English syllabus
Hornbill
The Portrait Of a Lady, We're not afraid to die–If we can all be together, Discovering Tut: The Saga Continues, Landscape of the Soul, The Ailing Planet: the Green Movement's Role, The Browing Version, The Adventure, Silk Road
Poetry:-
A Photograph, Laburnum Too, The Voice of the Rain, Childhood, Father to Son
Snapshots:-
The Summer of the Beautiful White Horse, The Address, Ranga's Marriage, Albert Einstein at school, Mother's Day, The Ghat of the Only World, Birth, The Tale Of Melon City
Reading, Writing & Grammar Section
Reading Comprehension (Passage)
Short writing Task (Notice, Advertisement, Invitation, etc)
Long Writing Task Letters (Formal), Article, Report
Grammar: Determiners, Tenses, Narration, etc
The regular unit test will be conducted after the finish of each chapter. The result of the unit test will be shared with parents/guardians and students through SMS. Relevant and exclusive study material will be provided at the end of the syllabus.
Additional Advantage
Special Classes and Test series are conducted to prepare students for the Board exam.
Previous year's class 11th exams questions are getting solved in the classroom.
Home assignments are given to students.
Motivational classes and Extra curriculum activities are conducted frequently.
One to One doubt clearance.
Note:- Kindly visit your nearest Chartered Commerce Branch for more details about Class 11th
Commerce classes.
CBSE Board -11th Class
Give your business dreams a head start with our special commerce batch for CBSE Board Class 11th! Enroll now and pave your way to success.
Bihar Board -11th Class
Give your business dreams a head start with our special commerce batch for CBSE Board Class 11th! Enroll now and pave your way to success.
ICSE Board -11th Class
Give your business dreams a head start with our special commerce batch for CBSE Board Class 11th! Enroll now and pave your way to success.